Llangrannog Beach
Llangrannog beach is one of the best loved in Ceredigion it has a fine sandy beach in a sheltered cove.  Llangrannog has 2 excellent pubs, The Pentre Arms and The Ship, 2 cafes, The Patio Cafe, famous for it's delicious homemade ice cream and The Beach Hut which also has a fish & chip shop, a small gift and grocery shop, recently opened local craft shop and public toilets. 
Llangrannog beach is a family friendly which has lifeguards over the summer months.  As well as being ideal for all the usual beach activities and bathing, Llangrannog is popular for watersports including surfing, paddle boarding & kayaking.  There is also a slipway in Llangrannog and due to the fresh winds in the area makes it ideal for a bit of sailing.
The beach sits below a series of craggy cliffs and is on what is part of the scenic Wales Coast Path.  There are excellent cliff top walks to the North Ynys Lochtyn (National Trust).
Llangrannog Beach sits close to neighbouring Ynys Lochtyn which is a small peninsula with and island just off its coast which is home to a seal colony.
6 Mins Drive or a 30 min walk
1.8 Miles
Dog Friendly - Dogs are banned to the left of the stream on the beach from 1st May to 30th September but allowed all year round on the right and round to Cilborth.  
Cilborth Beach at Llangrannog
At low tide beyond Carreg Bica (the big rock on the beach) to the right of Llangrannog Beach, you can walk around the headland to another beach Cilborth Beach there is also a cliff top path between the two beaches.
Dog Friendly all year round.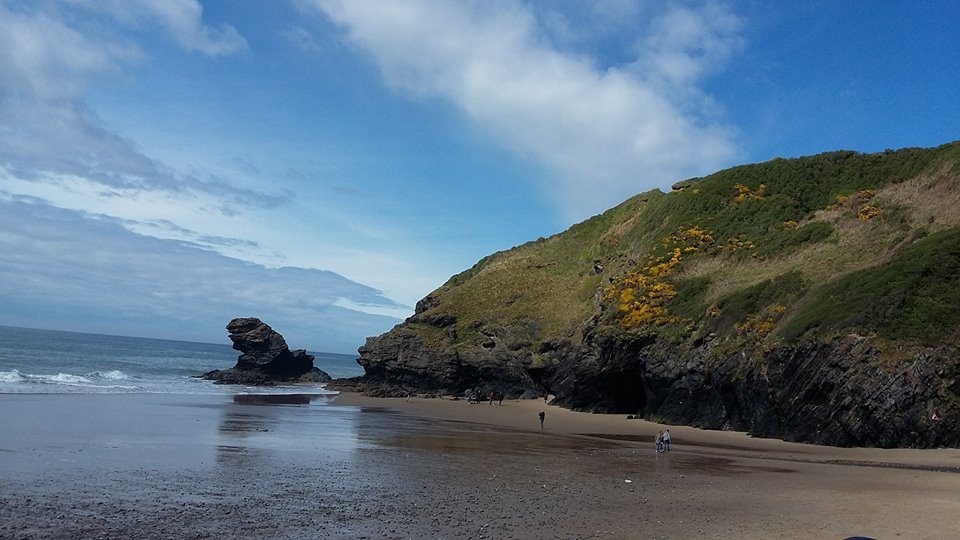 Penbryn National Trust Beach
Penbryn is an unspoilt, rural, sandy beach that stretches for about a mile and is managed by the National Trust.  Penbryn is located between the scenic coves of Tresaith and Llangrannog which sit along the Wales Coast Path and has won several awards for its cleanliness and natural beauty. 
Penbryn has a pay and display car park, a beautiful café - The Plwmp Tart and toilets are about 500 metres from the beach along an access road, alternatively walks through the woodland path.
Penbryn is protected from the wind by sloping woodland making it ideal for families although there is no lifeguard service.
Penbryn's claim to fame is that it was used as a location for the James Bond film "Die Another Day".
8 Mins Drive or a 40 min walk
2 Miles
Dog Friendly - restrictions May - September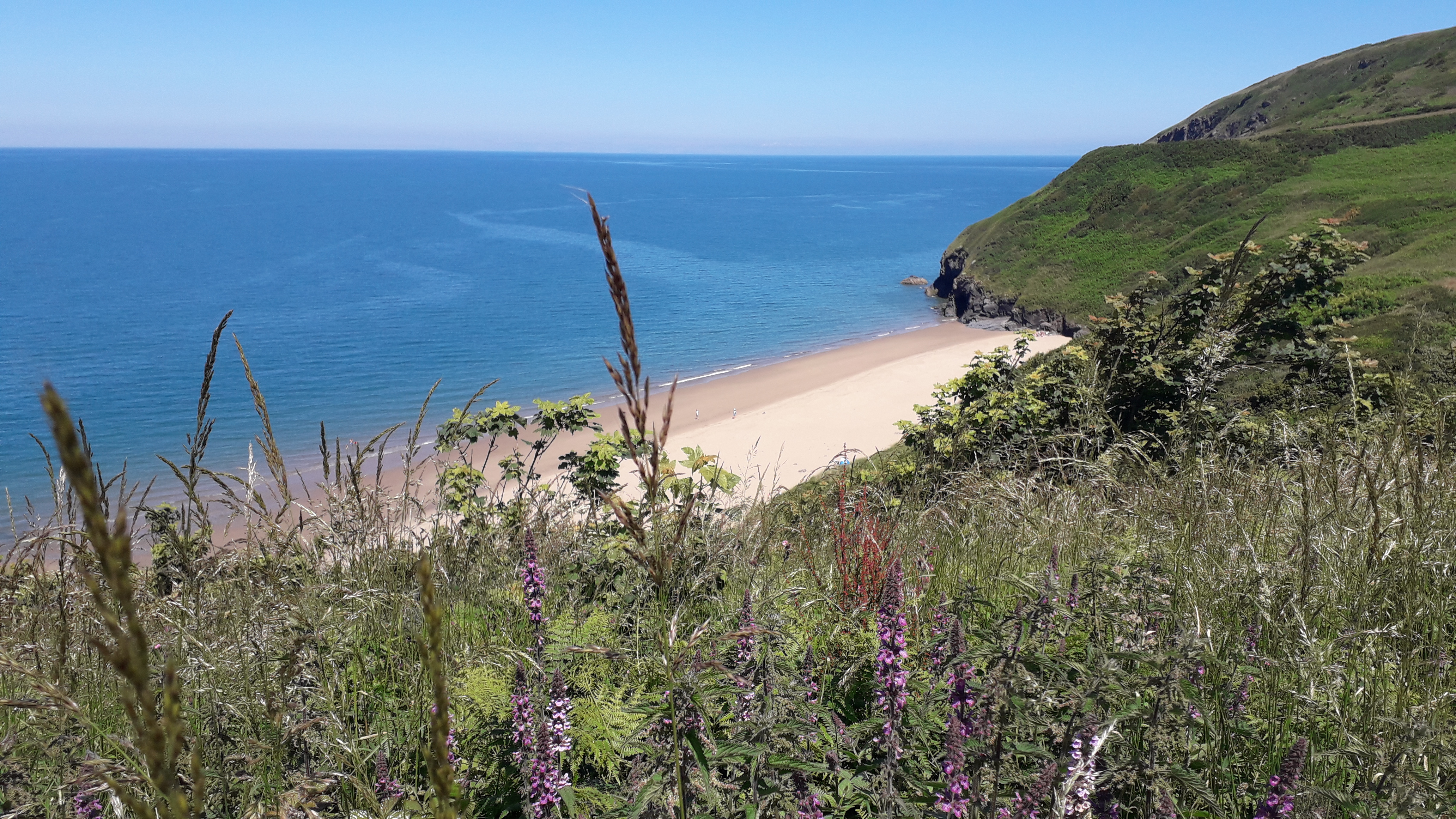 Tresaith beach
The village of Tresaith overlooks an attractive sandy beach at the bottom of a steep Hill. This pretty little resort sits  in a sheltered bay between Aberporth and Penbryn.
The name 'Tresaith' comes from the River Saith which cascades down the cliffs and on to the sandy beach below.  There are also plenty of rock pools to explore at either end of the beach making it great for exploring.  Tresaith is popular for a range of water sports; it can be a good surfing beach but it is most popular for sailing with a well established club and slipway. 
Tresaith has a popular pub, The Ship which is a Brain's Pub and serves good food it's an ideal spot for watching the beautiful sunsets we get here in West Wales.  There are also public toilets and a cafe a stones throw from the beach.  Disabled parking available too. 
9 Mins
2.9 Miles
Dog Friendly
New Quay Harbour and South & North Beaches
New Quay is a delightful, bustling seaside resort on the Ceredigion coast. The bay is home to colonies of seals and bottlenose dolphins, and wildlife watching is an important part of the local economy.  
Boats taking visitors to look for wildlife and enjoy the coastal views leave from the harbour, in addition to the many fishing boats, some of which may be chartered for crab hunting and fishing trips. There are a number of lovely beaches here, and the village can get busy in peak season.
Harbour Beach is a relatively sheltered beach. Forming a broad sweep of golden sand it is located immediately to the south of the harbour and pier.
This is the village's most popular beach, offering opportunities for both sailing and bathing, with zoning to enhance safety. The beach is usually patrolled by lifeguards from the end of May until the start of September.
South Beach is at the southern end of the wide stretch of sand below the harbour. It is close to the lifeboat station and the Cardigan Bay Marine Wildlife Centre.
North Beach is composed of coarse sand, flanked by rocks. It lies north of the harbour and is protected from the harbour traffic by being on the north-west side of the pier. The beach is relatively sheltered and is popular with bathers, families and watersport enthusiasts.
The nearest car park is New Quay Rock Street Car Park, from which it is a short stroll down to the beach. There is alternative parking in a number of pay & display car parks on the village outskirts further up the hill.
There are lots of lovely places to eat close to the harbour, and a choice of pubs, restaurants and shops in the village.
20 Mins
6.5 Miles
Dog Friendly
Cei Bach beach, Llanina near New Quay
Cei Bach is just North of New Quay.  The beach itself is made up of a mix of sand and rocks. The western side is sheltered from the winds and extends up to a campsite area. This then backs on to the village of Pont Llanina and the campsite also has toilets available.  Although very few facilities you can walk for miles with the dogs at low tide.
 25 Mins
 15 Miles
 Dog Friendly
Aberporth Beach
The village of Aberporth overlooks two sandy beaches, Dolwen and Dyffryn.  The beach has a gentle slope into the water and is made up of sand rather than shingle which means this is a great place for a swim and other favourite seaside activities. At low tide there are a number of rock pools to explore looking for marine life. For this reason, it is popular with families and is one of the top holiday destinations in Ceredigion.  
From Aberporth Beach you can take a picturesque clifftop walk to neighbouring Tresaith.  One of the highlights of this walk is the chance to take in the sea views and if you are lucky you may even spot one of the bottlenose dolphin found in Cardigan Bay. Orcas and porpoises have also been spotted in these waters as well as sunfish and sharks.
Nowadays if you want to sample some seafood caught off the coast of Aberporth then Cardigan Bay lobster and crab are both specialities.  Aberporth has a number of shops, pubs, cafes and restaurants.  Public toilets and lifeguards on duty in school holidays.
14 Mins
5.5 Miles
Dog Friendly - Dogs are allowed on Dyffryn Beach all year round although Dolwen Beach has some restrictions from September to June.
Mwnt National Trust Beach
Mwnt beach is owned by the National Trust, and despite being a little off the beaten track is still popular families the headland overlooks a remote sandy beach.   Located within the Cardigan Bay Special Area of Conservation, the headland at Mwnt beach is a great spot for spotting dolphins, basking sharks and porpoises as well as a host of other wildlife.  There is a steep footpath down via the toilets to the beach.  
Much of Mwnt beach's attraction lies in its unspoilt natural beauty. With fine golden sand, turquoise sea and barely a sign of development this is a special place. 
11 Miles
Dog Friendly - restrictions May - September
Cwmtydu Beach
Cwmtydu Beach is a delightful little beach that sits to the south-west of New Quay. The beach is known for its pretty views and its quiet atmosphere.  The cliffs here are also topped by a National Trust trail which is a great place for a bracing walk taking in the views across Cardigan Bay.
Nowadays the beach is also known as Seals Bay because of the resident seals that live in these waters. There is a grey seal population of around 5,000 in the west part of Wales and you can see these amazing creatures when they come to shore to rest.  If you are lucky you may also spot one of the bottlenose dolphins that are found in the waters of Cardigan Bay.
The beach itself is made up of soft pebbles and shingle and you will find a variety of rock pools here which children will enjoy. Fishing is a popular activity at Cwmtydu Beach and you can find a good selection of species such as flounder, plaice, dogfish, bass, and gurnard.
Aberaeron North Beach and South Beach
Aberaeron is a lovely little harbour town which has some beautiful Regency-era buildings, all painted in bright colours. Aberaeron has some lovely arts, craft & gift shops and lots of good places to eat from cafe's, pubs and restaurants.  The local honey is well worth a try, as is the honey ice-cream.  Each year the town hosts a seafood festival.   Aberaeron North has a short promenade, shops, cafes, toilets and harbour.
Aberaeron has a stretch of rocky beach, backed by a coastal path lies about half a mile north of Aberaeron harbour. There are views along the Ceredigion coastline and out towards the Irish Sea. The beach is used by walkers, sailing enthusiasts and fishermen. It can also be a good place for birdwatching.
There are a number of car parks in the town, including one just south-west of the harbour, by the yacht club and another at the end of Lower Regent Street right next to the shoreline.
24 Mins
13 Miles
Dog Friendly
Poppit Sands
Poppit sands is a huge sandy beach, on the southern bank of the River Teifi estuary.  The beach marks the northern end of the 186-mile long Pembrokeshire Coast Path.  Located on the other side of Cardigan it is still one of the most popular beaches with our guests with dogs as they can run for miles. the dogs not the guests. 
Backed by hilly countryside, sand dunes which are a haven for wildlife and looking out over the mouth of the River Teifi, Poppit Sands is a good destination for bathing, and during the summer months there are lifeguards on duty from 10am until 6pm every day, and a marked out swimming zone.
Looking out onto the surf, particularly in the summer months, there is a chance of spotting dolphins, porpoises, seals, or even whales.
There is parking for 100 cars adjacent to the beach which is accessed along a boardwalk. A cafe, a beach shop, and public toilets can be found next to the car park.  The Ferry Inn with great views over the Estuary and food can be found nearby.
Poppit Sands is also the site of a lifeboat station, which is open to visitors on Wednesdays between the hours of 6pm and 8pm and Saturdays between 10am and 12am.
30 Mins
14 Miles
Dog Friendly
Aberystwyth beach
Aberystwyth is sheltered sand and shingle beach in the middle of Cardigan Bay. Aberystwyth is Ceredigion's largest town the population is swelled to 18,000 by the local university. It has a pier, promenade, bandstand, cliff railway and castle.
 53 Mins
 34 Miles
 Dog Friendly
Borth Beach
Borth beach at high tide is predominantly shingle. As the tide retreats about 150 yards of deep clean sand is revealed, extending for over three miles from Borth towards Ynyslas . Borth is run down resort with pubs, cafes, shops, parking & toilets.
 1 Hours 5 Mins
 40 Miles
 Dog Friendly